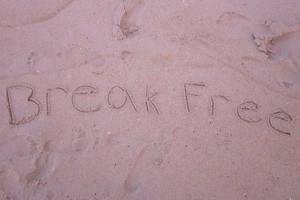 I tried not to learn anything during our week in Bethany Beach, Del. I tried to simply enjoy my time in the sun, relax, and enjoy some family time with Karen and the kids before the start of school today.
But as any father of school-age children knows, lessons inevitably seep into your brain no matter how hard you try to keep them out.
Of course, some are more practical than others, but they all have a place in our lives.
Lesson 1
Be thankful to be at the beach, regardless of the time it took you to drive there.
Yes, you live just 150 miles from the Atlantic Ocean, or what should be a three-hour car ride with some traffic and a short bathroom break for the kids. But you also drive over the Chesapeake Bay Bridge, and that can be unpredictable.
If a car crash closes one of the spans so a helicopter can fly someone to the emergency room, then your three-hour drive can easily turn into a six-hour haul.
Whatever you do, don't complain. When your trip ends you'll be at the beach. Someone else's trip ended in the hospital, or worse.
Yes, be thankful to be at the beach, and say a blessing for the people in the crash.
Lesson 2
Spiral staircases look cool and can save space in a small place, but looks aren't nearly as important as function.
No doubt, the kid in you would love to slide down the railing and pretend it empties into a swimming pool of whipped cream, but the adult in you hates schlepping luggage up and down the narrow steps in a circular maze.
And the husband and father in you hates hearing your wife and kids miss a step tumble down. Your toes don't like them much either. In fact, if your toes could choose between being jammed into a spiral staircase once a year or fighting a lifetime of nail fungus, they might choose the latter.
Lesson 3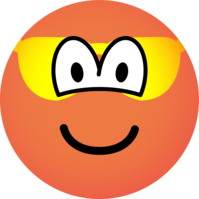 Deny it all you want, but you aren't 22 anymore. Put sunscreen on the top of your head. You may not see your bald spot every day, but the sun sees it just fine and is looking for an excuse to add some color to your growing dome.
Isn't growing old grand? Just wait until you're 50, and the doctor orders a routine colonoscopy just to make sure everything is clear.
Lesson 4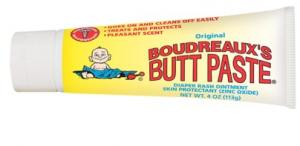 Building sand castles and digging holes in the surf is great fun with the kids, but watch out for all that sand.
It will creep its way into every wrinkle and crevice on your aging body, and turn the most delicate of body parts into bright red splotches of searing pain.
The cure? Boudreaux's Butt Paste. It's not just for babies or butts. Trust me. Don't go to the beach without it.
Lesson 5
Little is as peaceful as catching a few winks on the beach while the sun warms your toes, a breeze blows gently across the sand, waves crash loudly into the surf a few yards away, and squawking seagulls punctuate the oceanic orchestra.
That, my friend, is tranquility.
Lesson 6
Little is as annoying as waking up from that peaceful nap to the sound of a short-tempered father berating his son for taking a bite out the wrong hot dog.
Lesson 7
A bad day on vacation is better than a good day at work.
Lesson 8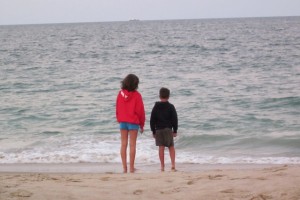 Celeste and Gavin get on each other's nerves about as much as other siblings, but they do love each other.
If you ever doubt it, just remember how they both worried that the current would sweep away the other as we were jumping the waves and trying to ride the boogie boards.