Karen and I always try to instill a sense of charity in our children.
We take them to buy school supplies in the fall for families who can't afford to buy them for their children. We throw extra presents in the shopping cart at Christmas and they drop them in the Toys for Tots bin on our way out.
They help us go through their old clothes to donate. And we bring food every month to church to give to the Greater Urbana Area Food Bank.
But in all our efforts to help people, one need has remained unmet: their pets.
Until now, that is.
Our 11-year-old daughter Celeste spearheaded an effort through Children's Ministries at church to collect pet food for our local food bank.
She thought of the idea on Take Our Daughters and Sons to Work Day in April. Karen brought Celeste and our 8-year-old son Gavin with her to work at The Humane Society of the United States.
In addition to seeing Mommy in action at the office and learning about the Humane Society's efforts to protect animals, they also stuffed information packets for one of Karen's projects: Fill the Bowl.
It's a great effort in which people collect, well, why don't I let Celeste tell you about it in her own words: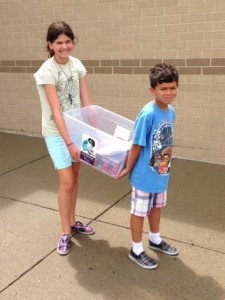 Dear other people out there,
Hi, I'm Celeste. I wanted to do the Humane Society of the United States' Fill the Bowl Project at my church.
I want people to think about people who need help feeding their families and their pets. I wanted to do this because I don't want animals to suffer from starvation. I want them to eat freely.
I also did this because I love animals!
This made me feel proud of myself for collecting so much pet food on the first day! I'm happy for pets eating and their pet owners smiling. Collect pet food for people who need to feed their pets.
Celeste
On Sunday, members of our church brought in enough food to fill the back of our car and we dropped it off at the food bank. The couple that runs it, Larry and Jo Ostby, were thankful for our efforts and mentioned how some of the families ask about pet food.
I'm sure the pets that receive the food will be equally thankful to have a full bowl in front of them.
The dogs would probably lavish Celeste with more slobbering kisses than she would care to receive, and the cats would, well, let's not kid ourselves. They're cats. They'd probably just walk away with their tales held high, which as any cat person knows is an exclamation point on their happiness.
Me? I'm thankful that Celeste is beginning to understand the importance of helping people, even when they aren't around to say thanks.