I can think of two moments in my life when I felt the hand of God pulling me.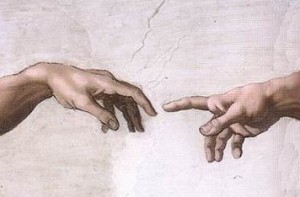 The first occurred on March 20, 1996. I was 27 years old, and working as an assistant editor for a chain of community newspapers in Maryland, the same paper I work at for nearly 20 years. (Who would have thought that?)
I was fairly jaded for such a young man, and swore I would never marry anyone. And kids? The mere thought of having any scared me more than a child fears a thunderstorm at bedtime.
But I was a normal guy, and a woman at work caught my eye. We started emailing each other, and at some point she learned I was tapping away at a novel and wanted to read it. A few weeks later, we went out to dinner so she could tell me what she thought about it. I can't recall what she said about the book, but I do remember she looked beautiful.
Stunning, actually. In fact, I could not believe I was eating dinner with such a gorgeous lady. I had secretly wanted to for some time, but never had the nerve to ask. I knew she would say no, so why try?
But I felt a chemistry between us. Toward the end of the night, she leaned over, kissed me, and said she wanted to be with me. I looked at her and thought, "So this is the woman I am going to marry."
I was not looking for a bride, but found one nonetheless. Two years and one month later, we were standing at the altar pledging our lives to each other as angels in heaven high-fived each other.
A man does not realize every day that he has met his future wife, so the date sticks out in my mind. God's hand pulled me in Karen's direction. Of that I have no doubt.
I don't remember the date of the second time, but it was just as powerful as the first, though I admit to resisting it more.
It occurred in the spring of 2011 as I was struggling to survive as an editor in the flailing newspaper industry while pounding away on my keyboard at night and weekends writing about my experiences as the father of two beautiful children.
I would go to work every day wondering if it would be my last. Layoffs had become a fact of life in newsrooms across the nation, and the one in which I worked was not spared.
It was only a matter of time before a pink slip found its way to my inbox, and I couldn't land an interview for another job. No one was hiring, and no one responded to the resumes I sent out. All I could do to take my mind off the turbulent industry was write about my children.
I was making no money writing about fatherhood, but enjoyed doing it. The kind words I heard periodically about my work sustained me for a short while after hearing them. It didn't pay the bills, but stroked my ego a tad, as any writer can attest. My audience was small, and building it proved tiring.
Meanwhile, Karen was trying to persuade me to explore a different side of fatherhood: fatherlessness from the eyes of a father who grew up without one. She said I could tap into the movement being led by Donald Miller and John Sowers, two authors who started The Mentoring Project, a faith-based effort to pair fatherless children with mentors.
Still, I hesitated. Part of me wondered if the fatherless effort needed me. It already has two best-selling authors. What more could I add? Let them do it, I thought.
Another part of me did not want to confront the sense of abandonment I felt as a result of my father's departure. I was a kid at the time, and I'm an adult now. Why bring up a painful past? It was so 35 years ago.
But the biggest part of me did not want to confront my father. I had never told him how I felt about his departure, and didn't see the point in telling him so long after the fact.
Amid all this, I left a particularly hard day at work in utter despair and wanted to just quit. But my responsibilities at home demanded a paycheck. I couldn't just quit. I felt trapped and frustrated because things weren't working out for me that well, and I didn't understand why.
God gave me the ability to write, and I was using my talent. Why weren't things going better for me? Why was I having such a hard time building an audience? I had no answers, only questions.
I often listen to music when I feel that way, so I turned on SiriusXM for the drive home. I randomly stopped on a song that caught my attention. I didn't recognize it, but it was catchy and I felt too defeated to change it.
I refuse to sit around and wait for someone else
to do what God has called me to do myself
Oh, I could choose not to move, but I refuse.
I looked down and saw that I was listening to The Message, a contemporary Christian music station to which I paid little attention.
I started listening to the words as though God was whispering them in my ears, telling me to trust in Him, listen to my wife, and write about my experiences growing up fatherless and the crisis of fatherlessness facing this nation.
But I still had an echo of a doubt, so I searched online for the song to feel inspired again, and found it on YouTube: "I Refuse" by Josh Wilson. I'd never heard of him, but watched the video just to be certain that I heard the words I thought I heard:
It video opens with a 20-something man leaving his house and walking by a young boy on a bike but barely noticing him.
"That boy needs a father," I thought to myself, though I can't explain why.
The man walks by several other people without noticing them: an old lady putting out the trash; a young lady waiting for the bus; and man playing a guitar outside a convenience store. I didn't know what any of them needed, but I knew that boy needed a dad.
Moments later, you learn that the man playing the guitar lost his home in a flood; the young lady is a single mother with three jobs; the old lady is a widow and lonely; and the young boy is from a broken home and needs hope.
I felt a chill shoot down my spine as I realized just how right I was, and I feel it now as I remember the moment.
"The guy is going to mentor the kid," I thought next, though again I can't explain why he would help just the kid and not the other three.
Yet moments later, I saw my prediction come true. I felt the hand of God pulling me to write about fatherlessness, and I refuse to believe otherwise.